Caldera Paradise Series
The Makena
89" x 89" x 36"
6 Seats/240V 50 amp/46 Jets
The Salina
89" x 89" x 36"
7 Seats/240V 50 amp/40 Jets
The Martinique
89" x 78" x 34"
5 Seats/240V 50 amp/34 Jets
Features
FiberCor®
All Caldera ®Spas feature FiberCor® an innovation that revolutionizes spa insulation. Applied at 2lb. density, FiberCor® is 4-times denser than regular 1/2 lb. Urethane foam.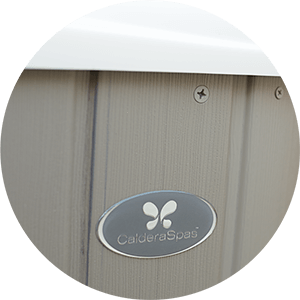 EcoTech® cabinet
The exclusive EcoTech® cabinet, with its rich colors and embossed grain, offers the aesthetic appeal of real wood while providing the durability and easy care.
The Foot Ridge®
The Foot Ridge® support provides a convenient anchor point to help you remain stationary while powerful jets work their magic.