Marquis®' new Vector21 hot tubs deliver a flow and force unlike any seen before in the galaxy of hot tubs: control and versatility unequaled in any other advanced system concept: individual command and control, yet perfectly designed for transporting a full vessel of hot tub experiences: a new vessel to transport body, mind and soul at 104°. Behold, Vector21!
The V65L
65" x 84" x 29.5"
Seats 4/120V or 240V 30A or 50A/22 Jets
The V77L
77" x 77" x 36"
Seats 6/240V 30A or 50A/27 Jets
The V84L
84" x 84" x 36"
Seats 5/240V 30A or 50A/36 Jets
The V84
84" x 84" x 36"
Seats 6/240V 30A or 50A/37 Jets
The V94L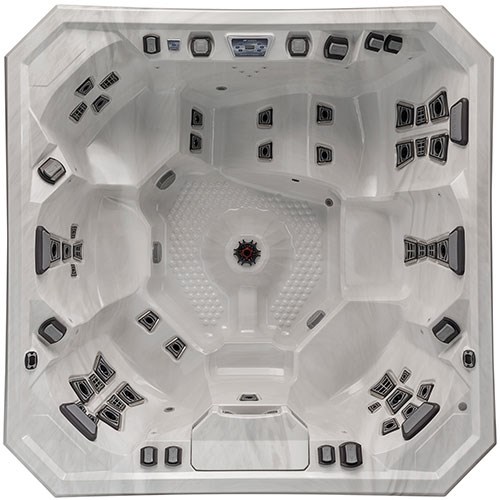 94" x 94" x 36"
Seats 7/240V 30A or 50A/45 Jets
The V94
94" x 94" x 36"
Seats 8/240V 30A or 50A/41 Jets
The V150
150" x 90" x 50"
Seats 8/240V 50A/31 Jetpods and 5 whitewater-4 Jets
VECTOR21 V-O-L-T SYSTEM
Vector-Optimized Laminar Therapy (V-O-L-T) System is a powerful performance feature within the hydrotherapy design of every Jetpod. In laminar flow there are no cross-currents perpendicular to the direction of flow, nor eddies or swirls of water. This delivers maximized flow volumes and significant hydrotherapy benefits. Also unique are the Jetpods; Directional Jetpods provide deep muscle massage by targeting precise locations; Orbital Jetpods address a broad area with a rotating massage delivering a strong, paced flow...a true sensation of massage movement on the skin; Conal Jetpods benefit an expanded skin surface area with a gentler massage.
VARIABLE VELOCITY VALVES (V3)
V3 is a primary seat flow-control throttle design that allows you to choose 0% to 100% of pump flow to specific seats at any time: Control-freak approved! V3 channeling and V-O-L-T System flow design give Vector21 the most sophisticated hydrotherapy command and control capabilities of any in the galaxy of hot tubs. Plus it's super simple to understand and operate. Depending on the model, three, four or five V3 controls are located near the seats with the jets that are activated by that particular V3 Control. How smart is that?
Colour Options
Shell Colours

Glacier White
Sterling Silver
Midnight Canyon
Winter Solstice
Tuscan Sun
Alba
Cabinet Colours

Barnwood
Cordovan
Cover Colours

Charcoal
Walnut